Sales Order Software

Sales Order software for tracking customer quotes and orders.
FREE basic features or full version with free support and free updates
Handles VAT, GST, PST, HST and other taxes
Multiple shipments per sales order
Traceability: Lot tracking (for recalls)
Sales Order Status Report, Backorders by Item, Quantity Available Report and more...
Inventory, purchasing, and multi-currency accounting software included


Sales orders may be entered as quotes and emailed or printed for customer approval. When approved, the status is changed to On Order.

Picking slips may be printed for the shipping department. Either the shipper enters details of the shipments to the computer, or writes on the picking slip for subsequent entry by a data entry clerk. Shipment items default to fully shipped, so only exceptions require entry. Packing slips may be printed to go with the goods. Accounts Receivable invoices are automatically created from the shipment data.

The Backorders by Item Report facilitates fulfillment of previously short-shipped orders.

An integrated phone dialer is available by right-clicking on customers, sales orders, or shipments.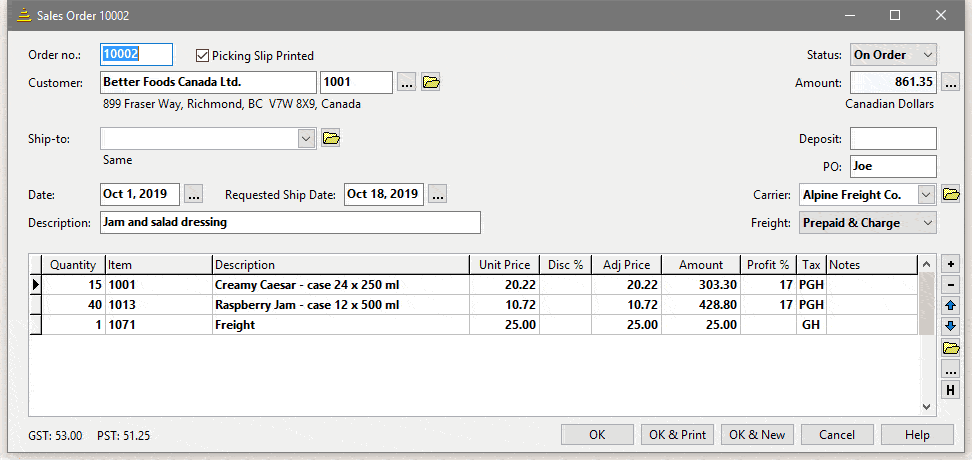 Sales Orders is available as part of:
BS1 Enterprise Accounting - ERP, Inventory, Distribution and Manufacturing Software

Download Free Edition or full version with free support and free updates.



BS1 (Business System 1) is a trademark of Davis Software
Copyright 1997 - 2018 Davis Software