Wholesale Distribution Accounting Software

BS1 Enterprise Accounting - wholesale distribution ERP accounting software: Sales Orders, Purchase Orders, Inventory, Accounting, Manufacturing (optional) software. For all countries.



The BS1 Enterprise Accounting launch pad fits compactly on your screen. Select an application to set the toolbar to the four most frequently used options. Example: Manufacturing toolbar: Items, Manufacturing Orders, Receipts, Reports.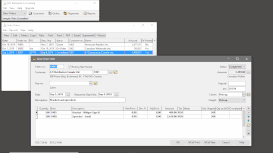 BS1 Enterprise Accounting wholesale distribution features include sales territories, sales analysis, multiple ship-to's per bill-to, price lists, back-order management, multiple units of measure, and lot tracking (traceability) with expiry dates.

Based on decades of experience developing enterprise-class AS400 software for big business such as Nabisco Foods and Kraft Foods, BS1 Enterprise Accounting software for Windows is high-end ERP software at a low price for purchasing, manufacturing, wholesale distribution, and multi-currency accounting.



BS1 (Business System 1) is a trademark of Davis Software
Copyright 1997 - 2021 Davis Software. Terms and Privacy