Purchase Order Software

Purchase Order software for tracking supplier orders.
FREE basic features or full version with free support and free updates
Email purchase orders
Purchase using vendor's item number and unit of measure
Multiple vendors and sizes per item, compare costs, set preference
AutoCreate purchase orders (automatic ordering option)
PO Status Report, PO Detail and more...
Inventory, sales, and multi-currency accounting software included


Purchase orders have the vendorís item no. and description, and may be a different unit of measure from your item. The vendor item table stores your item number and description for each vendor item, and the quantity per vendorís item. example 12 if the vendor sells the item by the case of 12. You can specify alternate vendors and/or sizes for purchasing each of your items, view unit costs converted to your currency and unit of measure, and indicate your preference.

Purchase orders may be emailed, faxed (via your faxing software) or printed for sending to the supplier.

The Quantity Available Report facilitates scheduling of shipments, purchasing and manufacturing by showing current inventory levels, sales orders, purchase orders and manufacturing orders.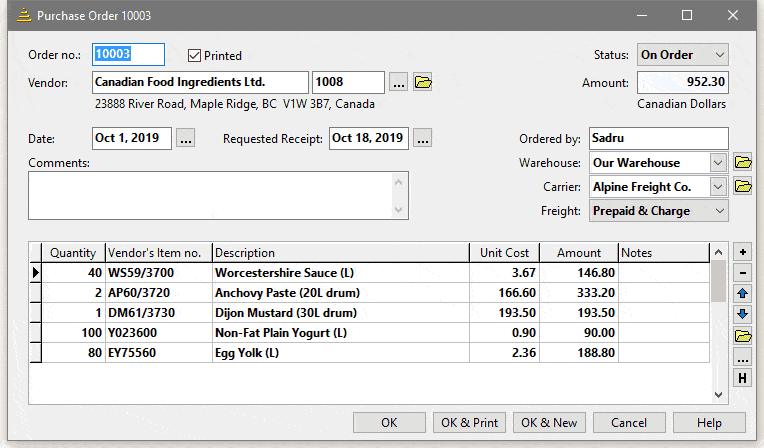 Purchase Orders is available as part of:
BS1 Enterprise Accounting - ERP, Inventory, Distribution and Manufacturing Software

Download Free Edition or full version with free support and free updates.



BS1 (Business System 1) is a trademark of Davis Software
Copyright 1997 - 2018 Davis Software