Time Billing Software

Time Billing software for tracking jobs and time. Billing data is passed to the Accounts Receivable software for printing and further processing.
FREE basic features or full version with free support and free updates
Track jobs by due date or priority, by customer
Optionally assign jobs to project leaders and job tasks to employees
Assign billing rate by task type with the ability to override
Stopwatch Timer for easy time entry
Time Calculator to convert time to decimal for accurate billing
Job status report, employee and customer billing reports and more...
Inventory and multi-currency accounting software included


When setting up jobs you specify the customer, details of the job including estimated price, maximum price, or fixed price, and whether the customer has given authorization to proceed.

When setting up each task within a job you specify the task type (links to rate table), description, due date, and any notes pertaining to the task. You may assign a task to an employee, enter the estimated hours, and override the task type billing rate if desired.

Each employee's time is entered by selecting the customer, job, and task. Time can be entered via the built-in Stopwatch Timer or from time sheets using the Time Calculator to convert start/stop times to decimal hours.

Create invoices by selecting a specific customer or all customers, a specific job or all jobs, and a selected cut-off date.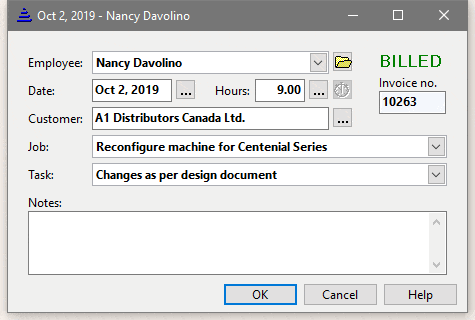 Time Billing is available as part of:
BS1 Professional Time Billing - Accounting Software with Time Billing




BS1 (Business System 1) is a trademark of Davis Software
Copyright 1997 - 2018 Davis Software